Barry Farber works with corporations, athletes, entertainers and business leaders.  He helps them build their brands, market their products and services and gain access to high level decision makers.  His programs are customized for each client:  More About Barry
Featured in the book...The Greatest Sales Stories Ever Told: From The World's Best Salespeople. More
Winner of 3 Telly Awards and nominated for an Emmy as the Executive Producer of the Jackie Mason Television Show. More
Negotiated a $7 million Evel Knievel Roller Coaster with Six Flags More
Tomra case study gaining access to the Jets and Giants Stadium More
Literary agent of Andy Macdonald; Guinness World Record holder for longest distance jump on a skateboard, 9 time World Champion and 23 time XGames medalist – more than any other skater. Sold Andy Macdonald's book to Simon & Schuster publishing and created a collectable series Andy Macdonald FoldzFlat® Pens More
Launched Radio Show "Breakthrough with Barry Farber" on Blog Talk Radio and in less than 90 days had over one million listeners and rated the #1 show on the network out of 16.000 active programs. More
Marketer and Co-Inventor of the FoldzFlat® Pen selling millions in plastic and metal in the promotional, direct response and retail markets.More
Best Selling Author of 12 books in over 25 foreign languages with over one million copies sold. More
Consultant to Gary Sheffield, one of MLB's top 25 home run hitters of all time. (509 career home runs)
Regular Guest on QVC selling out unique and innovative products since 1997 and Featured on HGTV - Home and Garden Television's hit show "I want that!". More
Host of over 400 Radio and Television shows in New York City, Washington and on the Comcast Television Network.
Monthly Columnist for Inc Magazine and previously Entrepreneur Magazine for 10 years and rated #1 in content by reader surveys.
Rated as one of the top speakers of the year in "Successful Meetings" magazine cover story.
Black Belt Weapons Regional and National Tournament Champion.
Featured on CBS, NBC, ABC, FOX, CNBC, and CNN.
Featured in Ad Week, Investors Business Daily, Newsday, Selling Power, U.S. News & World Report, Inventor's Digest, Variety and The New York Times.
Manager of Trigger Gumm, the Guinness Book World Record holder for the longest Motorcycle jump at 277.5 ft. (Also holds the record for height in jumping and going vertical at 80 feet in the air).
ENTREPRENEUR-AGENT-INVENTOR-AWARD WINNING TV HOST, BEST-SELLING AUTHOR & more...
Marketing agent and consultant for Fortune 100 companies, World Class Athletes, and Top International Entertainers

Marketing agent and consultant for Fortune 100 companies, World Class Athletes, and Top International Entertainers

Co-Inventor and marketer of the FoldzFlat® Pen selling millions on QVC, retail and the promotional markets

Co-Inventor and marketer of the FoldzFlat® Pen selling millions on QVC, retail and the promotional markets

Black Belt Weapons Regional and National Tournament Champion

Black Belt Weapons Regional and National Tournament Champion

Best Selling Author of 14 books in over 30 foreign languages with over one million copies sold

Best Selling Author of 14 books in over 30 foreign languages with over one million copies sold

Top Speaker of the Year "Successful Meetings" magazine cover story

Top Speaker of the Year "Successful Meetings" magazine cover story

Columnist for Entrepreneur and Inc magazine

Columnist for Entrepreneur and Inc magazine

Award Winning Radio and TV host

Award Winning Radio and TV host

Winner – 2016 JAM Award for best television interview Talk Show

Winner - 2016 JAM Award for best television interview Talk Show

Breakthrough with Barry Farber podcast – over 1.5 million listeners

Breakthrough with Barry Farber podcast - over 1.5 million listeners

Rated the #1 show on the network out of 16,000 programs

Rated the #1 show on the network out of 16,000 programs

Winner of 3 Telly Awards and nominated for an Emmy

Winner of 3 Telly Awards and nominated for an Emmy

Manager for 10 Time World Champion Skateboarder, Andy Macdonald

Manager for 10 Time World Champion Skateboarder, Andy Macdonald

Evel Knievel's agent for the $7 million dollar Six Flags Roller Coaster

Evel Knievel's agent for the $7 million dollar Six Flags Roller Coaster
THE RowBike!! A FULL BODY WORKOUT! Utilizing your legs, arms, back and core for both cardio and strength training. Go to
RowBike.com
to see more!
A Few of the Fortune 500 Companies We Have Worked With
CLIENT TESTIMONIALS... THIS IS WHAT OUR CLIENTS ARE SAYING!
"I have been a big fan of Barry Farber for many years.  He has so many talents but his true gift is his ability to communicate effectively.  "Little Billy" is his ultimate creation in which he expresses his true talents in a way that will resonate with everyone, whether you are 3 or 93 years old.  Little Billy takes you on an adventure that is entertaining, thought provoking, inspirational, and a fun way for parents, grandparents, and their kids to bond together around precious life lessons.  Little Billy and his cast of characters are worth having in your family's life."

"Like all great children's books, In Search of the Magic Tree tells a compelling story kids can relate to, while integrating strong values that parents will appreciate. With its upbeat protagonist and colorful characters, this is a tale for everyone to enjoy."

"The Adventures of Little Billy is a wonderful story and has a great message for all kids.  It teaches them to be brave, strong, and caring to others.  Keep up the great work and thanks for sharing a story that I can read to my children at night!"

"Such a good message.  One to read over and over and over.  We loved it!  Our kids were super engaged by the story and the illustrations.  Thank you for writing 'The Adventures of Little Billy: IN SEARCH OF THE MAGIC TREE' and sharing it with the world!"

"The Adventures of Little Billy…IN SEARCH OF THE MAGIC TREE is a wonderful story that will quickly grab the attention of the most active child. Social skills and positive character traits are beautifully illustrated by the many characters in this engaging story."

"The Adventures of Little Billy passed the most important test of all...my 3 year old son loved it and was captivated! The pictures captured his imagination while also getting great lessons within the story, well done!"

Barry Farber first stepped into my business while consulting for another service provider in the IT/office business machine industry. He confidently entered my building with the sales manager from that company, and started a conversation with the ease of an old friend. His approach was refreshing, not pushy or arrogant. He was upfront about being a consultant and working with this other company to cultivate other opportunities. Barry had a presence that screamed "sales manager". After that initial meeting Barry followed up with a thank you note, and a follow up call. I approached him about consulting for us. He was receptive, and enthusiastic about the opportunity to work with us. He attended sales meetings, worked with my sales staff individually, providing me with a third party assessment of my team. He networked with his contacts to enhance markets and expand our sales. Barry went on sales calls with our team, and made a positive impact on our organization. I have referred Barry to potential clients in other businesses who I have known for many years, and I am happy to have a conversation with anyone about the positive impact he has made, and continues to make in our business.

This was the best Valpak seminar I have attended!

One of the greatest learning experiences that I have ever had.

Great information that I'm already implementing.

Your message was motivating and powerful, and I'm applying the ideas and methods today!

Amazing how much insight and information – this will help me forever.

Entertaining and inspiring!  It was an honor for us to have you at our conference.

The response last night was phenomenal. We had more guests attend than any conference in the history of the board!  Your answers were full of practical advice and were eloquently expressed. You even let your sense of humor come through.

You were a big hit among both the sales reps, as well as sales management, which I'm sure you know is no small feat. There were several things which in my opinion made your program very successful.

Your background in sales – you could speak to the group as "one of them". You provided practical information – it wasn't canned information that you had not practiced as a salesperson.

You were well informed – you had done a good job of researching Great-West and were able to put things into our language. Your research on the sales profession – this added a lot of credibility to your material.

Since receiving State-of-the-Art Selling, I have increased my sales volume by $500,000 over what I would normally produce in the same time frame.  Of the nearly 150 Nightingale Conant programs that I own, yours' is my favorite.

Your session at the Scholastic conference was fantastic! Thanks for making it so entertaining as well as educational.  It's so nice to finally hear someone who comes from the real world of sales and doesn't just offer more classroom rhetoric.

You did a great job last night bringing the fundamentals back into the game; my sales team enjoyed your seminar.

We all enjoyed your presentation and certainly your humor, as demonstrated by the standing ovation.

Barry thanks, real ideas, applicable! Thanks for the motivation! By the way, I didn't see anyone on their Blackberry while you were speaking!

Your program was right on target, no esoteric formulas or fad concepts, just plain, straight forward solutions for improved sales.

You did a great job with the management seminars. I am, as you know, a cynic of the first order regarding seminar speakers talking to us about sales, but you are the real thing. Your examples and exercises came from and will help us with the real life business of recruiting, training and guiding our salesmen & women.

I've never had so much fun learning before!

Barry delivers the fundamentals in an entertaining way and we get results!

Terrific! He far, far exceeded my expectations. Engaging, witty and lots of excellent tips.

Thank you very much for the wonderful presentation at our management group meeting. It was very well received. You were able to keep the attention of the audience andeveryone appreciated the knowledge and practical experience that you

shared with them. Well done!

Excellent Meeting! Great presentation, enlightening, funny yet seriously business-worthy inspiration, motivation and energizing evening!  Easily worth the price of admission times two!

Really enjoyed your presentation last night and the great turnout. Besides informative you're very funny.

You're awesome!!  You are a wonderful and engaging speaker.   I look forward to implementing many of your terrific marketing ideas.  Thank you for sharing your energy and humor with us.

We loved your presentation -- so many valuable tools and insights. Thanks again for inspiring us at OCBA. Totally enjoyable.

You surprised quite a few of us – including me! Your session with us yesterday was really worthwhile. There were lots of good ideas.

Barry Farber's Keynote presentations are extremely informative and wildly entertaining. Two thumbs up!!

Barry Farber combines practical advice, hard-earned wisdom, and years of experience to equip you with the tools you need.

What a resounding success! The management seminar you conducted was outstanding! Your words of wisdom, coupled with the great humor kept everyone enthralled and ready to listen. The Senior Business Directors and Business managers left "raring to go" and put their skills to work.

I wanted to reiterate how on target, entertaining and educational your presentation/seminar was for our national sales meeting in Philadelphia last week. Your concepts are right on.

Over the years I have listened to many sales and motivational speakers and eventually they all start to sound alike. However, you really brought some fresh ideas to our company and they were all well received. Our company overall enjoyed the keynote address and I believe that the points you made about everyone in the company having a role in Sales will help shape the culture. You have quite a group of fans here in Miami now!

Over the years we have had a lot of guest speakers at our meetings, and you were far and away the most entertaining and engaging!

I have known Barry for almost 30 years. He has followed me in my career and I his and to my benefit it has helped me grow over the years. I can say that many authors, speakers and consultants have come and gone in my career, but Barry's message rings true and has held up over the decades. Barry is exciting, intelligent, resourceful and has an uncanny ability to put people he speaks to at ease. Whether in front of a large audience, small group or one on one, he is cool, informative, funny and relevant. Managers of mine, years after attending Barry's seminars and meetings, quote him as if they heard him yesterday.

I want to thank you for making our Dynarex National Sales Meeting a big success! The training session was well received by all and I was delighted to have received excellent feedback from many of our sales people. Once again, thanks for doing a great job! I hope we will be have the opportunity to utilize your services in the future for another sales training workshop.

I always thought "knock your socks off" was a figure of speech. Until, that is, you addressed our group. Our audience was comprised of more than 200 top selling travel agency owners and top level executives with many of the largest cruise lines and tour operators in the world – like Carnival Cruise Lines, Royal Caribbean International, Princess Cruises, Holland America Line, and Norwegian Cruise Line. They were all "heavy" hitters – not easily impressed!!! Congratulations, Barry, our group voted you this year's "Favorite Speaker".

Barry Farber provides a solid roadmap for success.

Barry Farber is one of the most authentic, passionate and action-oriented authors I have ever met—a true original. His Nightingale-Conant program, State-Of-The-Art Selling is our best-selling Business-to-Consumer program of all time and delivers proven sales strategies that are customer-focused and have been 'battle-tested' in the marketplace–he doesn't just recycle old and tired sales techniques. Whenever Barry talks…..I listen!

Congratulations on doing a fabulous job motivating our management team and giving them valuable actionable items to work on. You got them fired up and they loved it!

Sales strategies to grow your business is the single biggest challenge for business owners, and Barry Farber's motivational presentation is full of proven sales techniques, practical advise and simple tips to meet that challenge; and he does it with a sense of humor that keeps the audience engaged and glued to every word. I have used Barry over 20 times, in 13 different cities because the relevancy of his information and the positive feedback I receive, has been overwhelmingly positive, "…Bring Barry back", "Please present more of the same information…", "I was able to implement some of Barry's ideas on my first sales call…" Barry is an entrepreneur who lives what he talks about every day and it's one of the biggest reasons why business owners respect his advice, and why I will continue to utilize his talents and expertise.

Congratulations! Out of 10 outside speakers at our recent conference you were rated number one. Quite an accomplishment considering the outside talent we secured this year.

Barry Farber presents real life lessons which can be used in the work place as well as in your personal life. He engages the audience in a way which they can truly relate to him and his stories. You can count on listening intently while laughing out loud. When Barry is done presenting you feel energized, excited and a smile will be on your face.

The Highest Rated Speaker at Our Conference.

Barry Farber helped us gain valuable insights into our customers overall needs and created a account penetration strategy that brought results. It's all about being focused on the needs of the customer and our entire sales division benefited from his expertise.

Barry Farber was brought into my organization to highlight the "Top Down Selling" strategy. At first there was a skepticism amongst the sales reps. How do we go straight to the top and not "sell" anything and even more ensure we can get close to an appointment…with someone….anyone? We were assigned to make a list of our dream accounts and to find out who the CEO was and a few fun facts about them. After my first visit with Barry all skepticism was GONE. We walked right in asked for the CEO like we knew him for years. When the CEO walked out we discussed his recent interview with Inc. magazine on his personal journey to get the coveted top spot and what he learned during the process. The conversation was effortless pulling challenges that I have faced as an individual starting out in an entrepreneurial type position and how he has overcome most of the same challenges. He was impressed at the research we did and actually thanked us. At the very end of the conversation the CEO asked of course, "and what is it that you do." At that point I gave him my value proposition and his response was oh, you must meet my IT director who is in charge of those decisions. IT WAS BRILLIANT! I have never had to work so little to get an appointment and with the exact person I needed at that. Every stop after that went the same way. Everyone should be taught this in sales 101.

Barry's made a huge contribution to our national sales force!

Barry helped me develop a micro marketing strategy for our national sales team in which we identified a small, select group of prospective clients who we referred to as the wish list of prospects and those we would love to do business with. We developed a strategy to learn as much as we could about each and every potential client and created a campaign that delivered something of true value in a very personal way with the goal of getting face-to-face meetings. The program has been highly successful as it helps define new prospects, makes the sales team highly accountable and can be tracked over time for ROI. Barry listens to your needs, has the expertise and creativity to execute and sustain initiatives and goes above and beyond to deliver what we set out to achieve. I highly recommend Barry for new business strategies.

In every successful deal there needs to be someone who acts like the glue to bring the various parties together, make sure all of the information needed is available and people keep communicating with each other. Barry Farber has always been able to find any resource or person I needed to get whatever deal I needed done. Whether finding a literary agent, potential take-over targets for my company, outlets for a potential publishing deal and even my own television show, Barry already knows almost everyone of use and if he doesn't he will seek them out and within a very short time have them on his team. He is the ultimate team player, coach, entrepreneur and sounding board who can make something out of nothing which many people call magic.

Barry Farber was instrumental in helping our business grow and expand in many areas. He worked with us on gaining access to key decision makers and C-Suite level contacts in large accounts. Based upon the success we had with our entry level sales teams, we asked Barry to assist our senior level managers with targeted high level National account activity. I would recommend his services to anyone that is looking to improve the results of their Sales organization.

Barry was the keynote speaker at our national sales meeting and has remained as a trusted sales advisor. There is an abundance of social media posts, co-authored books and video clips which teach sales; much of this is posted without filter and with self proclaimed expertise. Within this new social media environment, Barry stands apart as a sales executive who has been in the trenches, understanding the practical real world issues, and continues to step into the field so that he sees the day to day battles sales personnel face. Prior to his keynote speech, Barry took the time to be in the field, to dig into revealing client discussions and to observe with an expert's eye. The result of all this was that Barry formulated his breakthrough sales ideas in a way that appeared authentic to our industry and ones which our sales team was apt to adopt. While I can list many other qualities which make Barry superb, one other which I will conclude with is that the client/vendor experience of working with Barry is a sales lesson in itself. He builds trust early on, leaves no inquiry without a timely response, effectively engages key sponsors, and follows engagements with - all the appropriate niceties (including the handwritten thank you notes). To have all this as an overlay to his far reaching sales expertise is truly amazing.

If Deepak Chopra and Tony Robbins are your fuel, then Farber is your roadmap.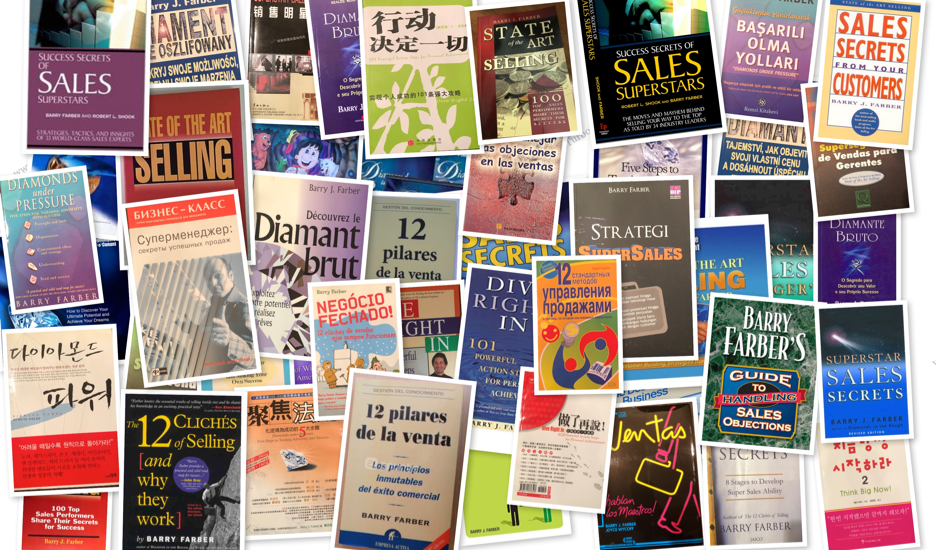 Barry has been a columnist for Inc. magazine and has written over 500 columns for publications like Entrepreneur and Sales and Marketing Management and also a best selling author of 14 books in over 30 foreign languages with over one million copies sold.
Published work by Barry Farber:(See All published work)
Barry Farber Consults and Speaks on the Following Topics
Sales
Sales Management
Customer Service
Growing and Expanding your Business
Leadership
Dealing with Change
Marketing
Entrepreneurship
Peak Performance/Motivation
Negotiating
Overcoming Obstacles
Networking
Communication Skills
Goal Setting
The Art of Continuous Learning