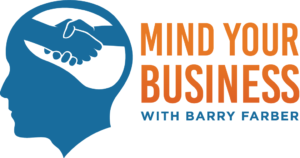 Mind Your Business E05: The Amazing Kreskin
During the past fifty years Kreskin has had a television series, his own board game by Milton Bradley, twenty published books, and a major motion picture inspired by his work. He's had 88 appearances on the legendary Johnny Carson show, 105 shows with Regis Philbin and David Letterman and most recently Neil Cavuto, Howard Stern and the only guest to return 3 times to the Jimmy Fallon show.
Mind Your Business E03: Brian Clement
Brian Clement, Ph.D., L.N., author of 20 books, and Director of the renowned Hippocrates Health Institute who works with CEOs, athletes and celebrities like Tom Brady, Venus Williams and Arnold Schwarzenegger.
Mind Your Business E02: Heather Cammisa
President and CEO of St. Hubert's Animal Welfare Center

Mind Your Business E01: Tom Maoli
Owner-Principal of Lexus of Route 10